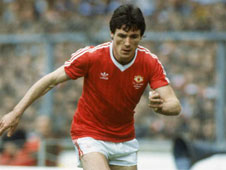 (image text) Frank Stapleton in his Manchester United days. Adam Tong of FC United has a long way to go to reach the dizzy heights of top-flight English football and captaining your country but there's something about him that is reminiscent of the Irish ace.
Source:
betfair.com
FA Cup / Gary Boswell / 22 October 2009
Gary Boswell tells us about FC United, who have something of the Manchester United of old about them and some of the most vocal supporters in the land. This weekend they're outsiders against Northwich Victoria in the FA Cup and can book their place in the third round draw.
Betfair traders will no doubt already be forming their opinions on the FA Cup outright market. What price United for the silverware is a thorny conundrum causing many a sleepless night every year. Favourite for sure. But what is a correct price? Will Ferguson have his mind focussed on the domestic trophy with all the other superior distractions around him? Are United a back or a lay?
The fascinating possibility is that this year they could be faced with a game against the inimitable FC United supporters team as Karl Marginson has the Rebels just one game away from the first round proper.
The Boz ain't joking. Prepare yourself now for the sight of Trevor Brooking plucking ball number 34 out of the black bag in Soho Square and breathlessly whispering 'Manchester United' whilst Sir Bobby Charlton is poised over the corresponding opposition sphere and anticipates the global gasp as he announces.......
Alright so it's a few games away yet and the non-league phenomenon - which I have forecast as the future of football - have three more games to win starting with a tricky visit away to Northwich Victoria on Saturday.
The Vics are 1.68 to back but are my idea of a prime lay as the Rebels come on a mission and have the on pitch ammunition to bring the shock about.
Marginson has them in prime current form - unbeaten in their last five - including a pulsating 3-3 draw against Stalybridge Celtic last round that was turned into a 1-0 win in the replay. That form alone reads well enough to give them a realistic chance on Saturday against a Northwich side also in good form but vulnerable to the awesome power that is the FC United support. It must not be underestimated as a factor at non- league level. AFC Wimbledon are benefitting from it too in BSP and in Unibond Premier, the travelling Rebels army are worth a goal a game at least.
On the pitch, United will look to ex-Vics starlet Carlos Roca who has a touch of the Lou Macari about him and who has scored four in the last four games. Adam Tong is the non league version of Frank Stapleton and most crucially, the Rebels have their very own Peter Schmeichel in Sam Ashton who is to be seen regularly whipping up the crowd and joining in with the singing that makes their games such a pleasure to attend.
Not fair really to compare FC United to the Manchester Uniteds of the past. They are a team in their own right. You have to forgive old romantics like me who just can't help themselves! Make no mistake though, The Boz also has a hard-nosed business brain which has done its sums and will be backing FC United on Saturday at the blinding Betfair price of 5.2.
It's my main forecast FA Cup shock of the day but I do have a couple of other possibles. Chris Wilder's Oxford United come into the competition as non-league's premier force but it will be no surprise to see them consider the FA Cup an unwanted distraction from their league ambition. They have in any case a potential banana skin in Thurrock for whom Fola Orinolishe looks an exciting acquisition. The BSS title contenders are in exquisite form scoring nine in their last two and remain unbeaten on the road in the league. Sure to present a stiff test for the Us who are a Boz Lay at 1.5.
Keep an eye also on the Ducks of Aylesbury who languish at the foot of the Zamaretto Midlands and are a big price at 4.5 to upset Ryman Premier title contenders Wealdstone. Word is the Ducks landed a touch last round against Chesham by recalling old players for the day who managed to squeak through 4-3! Bookmakers were reputedly a-blushing and a similar coup is planned for this weekend.
THE BOZ'S BEST THREE BETS FOR THE WEEKEND:
BACK FC UNITED to beat NORTHWICH VICTORIA at 5.2 or longer
BACK AYLESBURY to beat WEALDSTONE at 4.5 or longer
LAY OXFORD UNITED (5 points) against THURROCK at 1.5 or shorter